TBT400: optimized and secure communication
Centralized management of data exchanges in the IBM I environment
TBT400 is a professional solution for Power Systems architectures and is maintained by a team of experts in systems and telecommunications. Designed to share files from an IBM i server with ease (no dedicated frontal servers), TBT400 automates your transfers while maintaining the security of your computing environment for optimal real-time management.
Benefits of TBT400
All the exchanges are logged in a historical file
Natural integration into existing IBM i architectures (native IBM i command, C, RPG and Java APIs are provided...)
Automation and full supervision of external processes (monitoring of user and third-party programs, EDI translators...)
Alerts via email, SMS, OS messages, etc.
Confidentiality of communications (SSL/TLS) and stored data (we use the latest technologies of encryption and electronic signature)
Modern graphical interface for administration and supervision
Performance and reliability (the product core is written in C and IBM MI)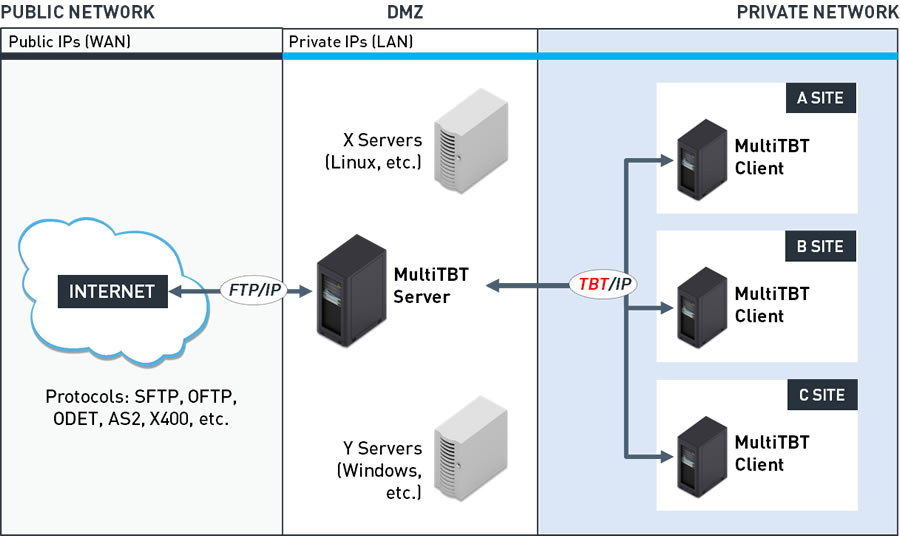 Configuration of MultiTBT
TBT400 can be installed alone, or coupled with our TBT EDI file translator for a complete native IBM i communication solution.