Additional solutions for i Series
XOT routers
Some applications function only in X.25 and it is not possible to migrate them to TCP/IP?
We offer to combine our TBT400 communication package with a XOT router: our module XOT400 allows your X25 applications to operate without requiring Transpac services. Depending on the available protocols XOT400 will use:
ISDN (Numéris) for pure X.25 partners,
TCP/IP (Internet) for XOT-compatible partners.
Contact us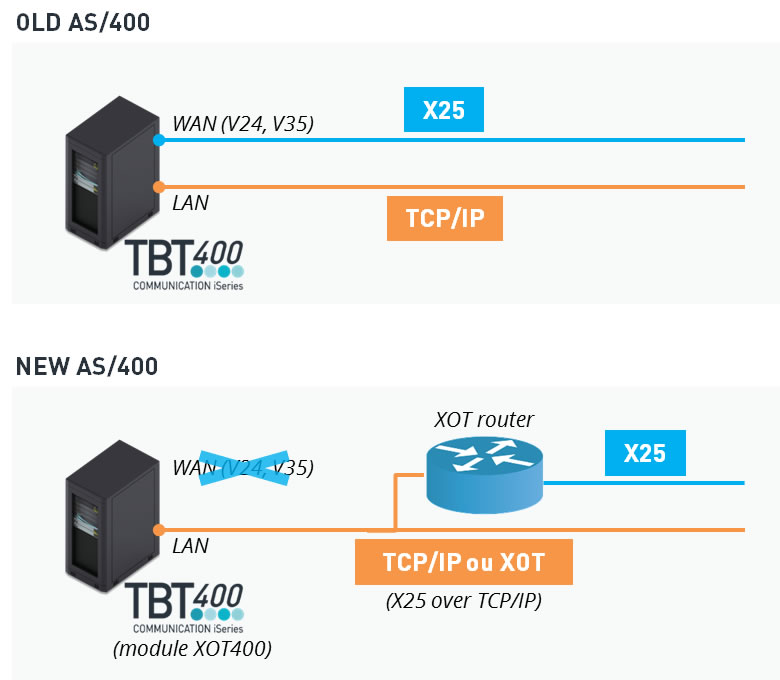 XOT400 : X25 access from AS/400 without WAN port
GMFT Table Manager
On large mainframe systems, tables play a strategic role both for users and professionals. GMFT manages tables used in CICS, VSAM, DOS, MVS or TSO. It features:
Screen interface for the creation of table structures
Interactive or batch data loading
Manipulation of tables in real time
Access control
Data consistency check
Batch printing
Automatic generation of copy files
Many utilities